So, this is the first of a few "Multiple Book Updates" that I'll be using to catch up on all my Summer Reading posts for this year. Even though I didn't read too many of my school books, I did get to read some fun graphic novels.
First, I touched on the Lupin III manga series. I've been interested in Lupin for a few months now, mostly watching the anime and the movies. And it's a lot of fun. So, after a few hours of animated excitement, I started to wonder why I hadn't read any of the graphic novels.
Jigen & Lupin III from Castle of Cagliostro

Unfortunately, my library doesn't have ANY of the Lupin III books. They have the Castle of Cagliostro movie, but no anime TV series, and no books. One Inter-Library Loan later, and I got my first Lupin III graphic novel. But, it was not Book 1. No....It was Book 3 (despite my requesting book 1)!!
Luckily for me, the stories are all sort of disjointed and stand-alone. So, starting with Book 3 didn't leave me with too many questions. Sure, I did have questions, but I would have been just as confused even if I had read Books 1-2 beforehand.
I will say, however that despite being a fairly decent series, I was disappointed to discover that the Lupin III graphic manga is just not as good as the anime. Sure, it was fun. But, it lacked the same appeal of the anime. On Goodreads, I gave it a 3 out of 5 stars. Not bad, but not great either. Honestly, I wouldn't mind reading the rest of the books, but I don't want to deal with the frustration of trying to track them all down via Inter-Library Loan.
Next up is a hilariously bizarre collection called Hark! A Vagrant by Kate Beaton. This collection was quirky, and pretty strange, to be honest. But, it was funny, and appealed to my strange sense of humor. Which is, of course, why it earned 5 of 5 stars on Goodreads.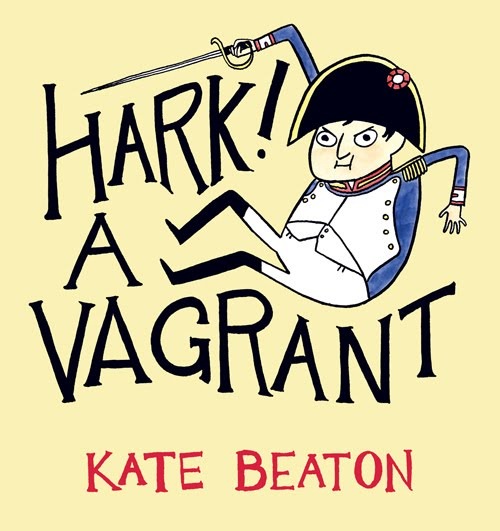 The topics cover literature, history, and just the random squibblings of Miss Beaton's mind. This can (and proves to be) very funny, but at times, produces the strangest comments and plots imaginable. As a future librarian, I loved the literature references, especially Sherlock Holmes, E.A. Poe, and the Bronte sisters.
I suppose posting about this sort of gives a window into what I think is funny. And that may or may not be a good thing. I guess I'll leave that up to you guys to decide, haha.
While I'm on the topic, I also want to mention that Kate Beaton also has a website full of even more strange and funny comics. You can find a link to it HERE. Enjoy!
My third and final graphic novel is a bit more highbrow, I suppose you could say. It's called Oishinbo, and it's all about food. The series follows the staff at a Japanese newspaper, as they attempt to put together the Ultimate Menu, of the greatest foods that truly represent Japan. In the installment I read, The Joy of Rice, author Tetsu Kariya takes us on a journey into all the finer points of eating rice. I learned about preparation, toppings and fillings, rice balls, and how to physically go about eating the rice. There
was even a recipe in the front (or back, depending how you look at it, since manga traditionally reads right to left) for making scallop rice. I don't really even like seafood, but I have to admit that it did look pretty delicious.
Excerpt from Oishinbo. Remember to read right to left ;)
All in all, I was pretty pleased with my collection of graphic novels this summer. And with Oishinbo earning 4 of 5 stars, that means my graphic novels earned a 3, 4, and perfect 5 out of 5. Not too bad, I'd say.
Continuing on into the fall, I would love to see if Kate Beaton has made any more books. And of course, I want to read the rest of the Oishinbo series. As for Lupin III, I'm not sure. Of course, I love the anime, so I'll be watching quite a bit more. But, I'm just not sure if the manga is really for me.
Keep on the lookout for more of these big themed posts while I sum up my summer reading. I'm expecting to have even more fun stuff to talk about come fall. I promise I'll try to post more often. Thanks, guys ^_^