This is a book that I've been meaning to read for about ten years now. Back when I was in grade school, Sarah had suggested that I pick up this series she had been reading. I was told to read anything by John Bellairs or Brad Strickland (the series was started by the former, and continued by the latter after his death). I'm not entirely sure why I never actually read any of them. But, I do know fantasy was not my thing at the time. It is now. I mean, I love fantasy. And I know that Sarah enjoyed it as a kid. But, at the time, it just seemed rather silly to me, and I just was not interested.
I had been thinking about the series on and off for years
though. It was one of those things that I thought could actually have been really interesting if I had given it half a chance. Since I started working at the library, I've read some children's literature (know your collection!) and I started thinking that if I'm reading Timmy Failure and Howl's Moving Castle, the least I could do was give John Bellairs a shot.
I should pause my review at this point to say that John Bellairs has written three different series. And I just happened to pick the Lewis Barnavelt books because I could only remember the title of one book by Bellairs: The Beast Under the Wizard's Bridge, which according to Goodreads is Book #8 in the series.
But, of course all series must be read in order. Book #1, The House With a Clock in Its Walls tells the story of Lewis, an orphan who is sent to live with his uncle Jonathan after his parents die in a car crash. (On a side note, it has always interested me that these characters are perfectly peachy after the crushing death of a loved one if they meet a cool relative or make some good friends right afterwards). Lewis finds himself fitting in perfectly with Uncle Jonathan and his friend Mrs. Zimmerman. And to his great surprise, he learns that they are both wizards! Not only that, but there is some crazy magic afoot. In the silence of the night, you can hear a clock ticking away within the walls of the house. And no matter where you are, you can hear it as though it were on the other side of the wall. The clock serves a sinister purpose, but no one knows what it does. Perhaps it has something to do with the previous inhabitants of the house: an evil warlock and his wife.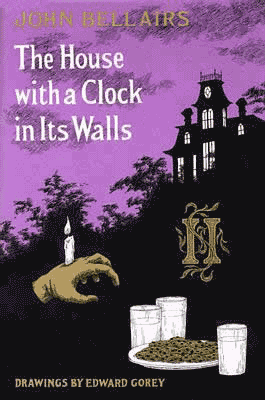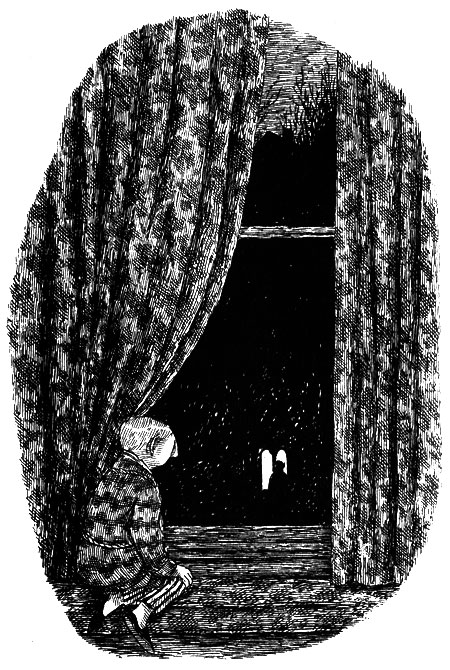 This is essentially your classic Gothic novel watered down for children. Like a virgin margarita, this is a treat that can be enjoyed by both adults and children. I certainly found it fun. It was atmospheric, suspenseful, and like all good children's fiction, leaves the reader with the satisfaction that no matter what happens during the beginning and middle, all will be right in the end. Of course, there are still signs that this was written for children. Jonathan and Mrs. Zimmerman like to insult each other, and their nicknames border on the childish. The story never gets too scary, either. This is just right for a kid who wants to get into the more Gothic aspects of fantasy, without diving into The Phantom of the Opera or Jane Eyre.
Oh, and did I mention the illustrations are done by Edward Gorey? Because they are--and that is AWESOME!
The rest of the series has awesome titles and covers. Even this book has multiple covers and they all look great. I'm looking forward to reading the rest of the series, and books 2-3 are in my room right now. So, stay tuned for more reviews! And as always, happy reading :)